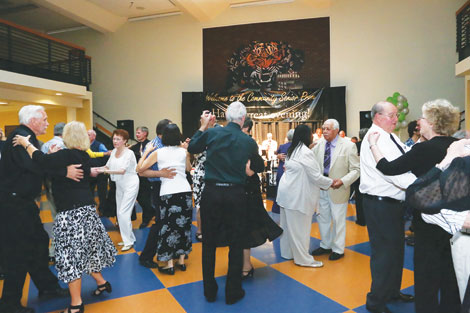 Forget high school. This prom is for people age 55 and better.
For the seventh year, the Franke Tobey Jones senior living community in Tacoma and other sponsors will provide fun evening for those wanting to cut a rug or just listen to big-band music on June 11 from 6 to 9 p.m.
"This event is something that I can't wait to attend each year," said Steven Behr, a Senior Prom attendee the past few years. "It is tailored to us older adults who long to get dressed up, enjoy the big band music, and share 'I only have eyes for you' moments with that special person.  And, the price is right…only $5!"
For the second year, the Senior Prom will be held at McGavick Conference Center at Clover Park Technical College in Lakewood.
"We simply outgrew our original Stadium High School location," said Christine Hall, the event's coordinator and senior director of marketing and public relations for Franke Tobey Jones. "Last year we held the Senior Prom for the first time at the McGavick center and it was wonderful —  lots of space for dancing, listening and mingling."
A highlight of the prom is the music provided by Route 66, a 16-piece band that gets everyone in the mood to kick up their heels and also brings back lots of memories of past Senior Proms, Hall said. Another highlight is the crowning of kings and queens from various retirement communities.  Prom attendees can also have their Senior Prom photo taken and enjoy refreshments.  The ticket price ($5 each) includes everything.
Tickets can be purchased on line at http://www.franketobeyjones.com/senior-wellness/annual-events/, at the front desk at Franke Tobey Jones or the night of the event.
The event's major sponsors are Franke Tobey Jones and Allwest Moving and Storage.  Other sponsors include ResCare HomeCare, AdLib, Humana, The Errand Girl, and Retirement Connection.
Additional information is available from Christine Hall at 253-756-6350.