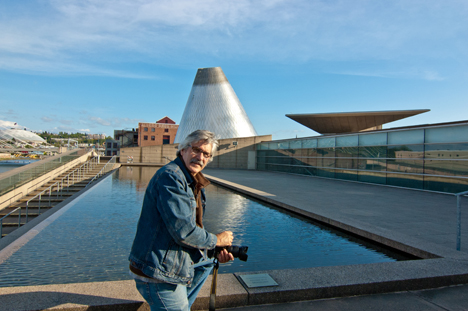 "I married the right woman."  This affirmation was repeated a few times by Peter Serko as we sat in Tully's, talking about his journey to becoming one of Tacoma's most exciting photographers.  Because he married the right woman, Peter said, he could leave his family therapy practice to be a stay-at-home dad. Their first child was just a few months old then.  Two more children and thirteen years later it was decided that the three children were old enough for Dad to be working outside the home.  Interestingly, he had taught himself enough about the world of computers to be hired as an information technology person for the Vashon schools.  It was a job that allowed him to see his children, a job he has held for the last thirteen years.
During those latter years, it was, Serko said, when he was photographing his son's participation in athletic events, that it struck him that his picture taking was a form of story telling.  That sensibility stayed with him as other elements of composition revealed themselves to him both through experience and exposure to the work of master photographers.  Serko's "right woman," he said with a smile, gave him a perfect birthday present:  a one-week photographic workshop with a renown Oregon photographer.  That workshop and a good digital camera were instrumental in turning Serko's life in a new direction when he was already in his 50s.
Although he freely admitted  to having made "a lot of mistakes along the way," Serko hopes to not only capture beauty of line, light, and color in his subjects, but also to help reframe the viewer's perception of the subject, so it is seen in a unique way.  His example was a dandelion.  A dandelion growing up through cracks in cement would be only a weed to most people until the photographer's lens turns it into a beautiful subject worthy of praise.  I thought of my own reaction to a book of his photos showing the interior of a building that had once been a fire station which is now transformed into a warm and inviting home.  Use of light and color, and concentration on ordinary subjects such as a faucet handle, or a drawer pull, invite the viewer to make room for the past in the presence of today.
Several local galleries and the Tacoma Art Museum have shown Serko's work.  Daily, he walks the area around his home, on the Thea Foss Waterway, with a camera for companion.  He pointed out that he has his camera with him almost everywhere he goes, and I noted its presence during our conversation.
Serko's enthusiasm for Tacoma and what art has done for the city was obvious in his excitement talking about his next exhibit.  Called "Transformation: Art Changes a City," the show will be displayed at the Museum of Glass, beginning on Aug. 7 with opening day on Aug. 13.  The show will run through Jan. 8, 2012.  It will be a spectacular pictorial review of the Museum, pictures taken during the day, at night, after a rain, in the sun, covered with snow.  Pictures etched on aluminum panels. A show that celebrates what we have here in Tacoma.
As with his December show, "20/20 Tacoma", public collaboration will be involved in this latest Serko venture.  Basically, the general public is invited to submit photos of their favorite shots of the Museum of Glass.  From the pool of pictures submitted, some will be selected to be incorporated into the show as a digital display.  This community participation will be invited and rotated over the length of the show, Serko pointed out, giving fresh views for the digital display each month.  Complete details for participating in that collaboration, as well as more information about the photographer can be found at www.peterserko.com. 
Just before we left Tully's, I asked Peter if there were anything additional that he would want to say to our readers.  His reply: "It is never too late to do something new."
The Museum of Glass is located at 1801 Dock St. "Transformation: Art Changes a City" will show from Aug.7-Jan 8.  Free for Museum members, $12 for adults, $10 for seniors (or $22 and $20 respectively for adding the Art Museum to the visit).  Look for announcements of special photography classes Serko will hold during the run of the exhibit.