Sumner resident Betty Murray has a long history of helping others.
Murray, who is 91 years old with a killer smile and a mind that is sharp as a tack,
has worked hard all of her life. Years ago, when her daughters were young, she was working at a J. C. Penney store when her brother called and said their mom was suffering from cancer and needed Murray to come run her nursing home. Murray stepped right up, earned her LPN certificate and took charge of the nursing home for the next 14 years.
When that career ended, she wanted a job that would allow her to stay at home and raise her five daughters, so she checked in to running an adult family home. She operated one for 32 years, retiring at age 70.
After her retirement, she visited St. Joseph Medical Center's dialysis center in Tacoma and noticed that everything in the patients' rooms was stark white.
"I talked to one of the nurses and said, 'What do you think about different colored bedspreads to brighten this place up?'" Murray recalled. The nurse thought it was one heck of a good idea. That spurred Murray's love of crocheting bedspreads and scarves for those in need.
One of her daughters, Gloria Jane, got tangled up with drugs and alcohol at an early age, and it wasn't long before she became homeless. A visit with Gloria to Nativity House, a homeless shelter in Tacoma, got Murray thinking again how she might be able to lend a hand to those in need.
"At that time, Nativity House was a small place run by Brother Gary, a Catholic priest that had retired, and Gloria said, 'Let's stay for lunch.' Lunch was a bullion cube with carrots," said Murray.
She decided she needed to step in and help, so on her next visit she brought some much-needed coffee, tea and lunch supplies and told Brother Gary to take a seat because she would be preparing the noon meal that day.
"He looked at me like I had two heads, because no one had ever offered to help," said Murray, who made soup with chicken and dumplings that day.
She loaded Brother Gary up with more supplies and left wondering what else she could do to lend a hand to Nativity House guests.
Sadly, Gloria Jane died at 36 years old. In her honor, Murray has been busy crocheting scarves and taking them to Nativity House. So far she has donated well over 100.
Nativity House supervisor Anisha Fernando said the scarves are a welcome gift to the guest of the shelter and community center for the homeless.
"They enjoy picking out their own scarf, choosing their favorite color, and it brings them joy. They really appreciate the scarves," Fernando said.
Nativity House, which is run by Catholic Community Services, recently moved to a new location at 702 S. 14th St. in Tacoma. The new location offers overnight housing for 50 women and 120 men.
"We have a full functioning kitchen, air conditioning and a nice heating system that circulates the air six times a day," said Fernando.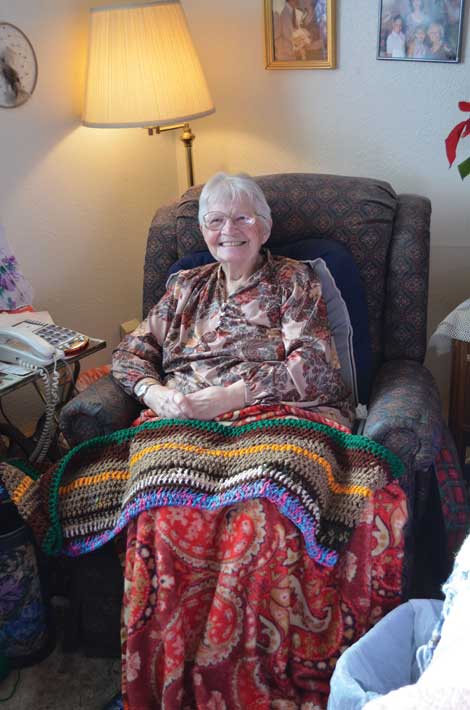 Cooks make breakfast and lunch in the new kitchen, and they are gradually moving to serving three meals a day.
Murray loves crocheting and spends her days in her home, sitting in a comfy chair right by the window and making scarves, but she has a huge need for more yarn. Anyone willing to donate skeins of worsted weight yarn can bring it to Nativity House and drop it off at the entrance in the back of the building. Fernando will make sure the yarn reaches Murray so she can continue her humanitarian effort of providing warm scarves for homeless folks.
Murray has a burning desire to continue her crocheting and donating, and the homeless population needs the scarves. All Murray needs to make that happen is more yarn.
Joan Cronk is a freelance writer.