Sometimes I think the hardest thing to do is take care of yourself first. I spend a lot of time taking care of others, making sure they are comfortable, have things to occupy themselves with, know they are safe and help them to do things they might not otherwise. I forget that those are things I need to do for myself, as well. It isn't just me, it is all of us. We are always;looking out for someone else.
Well, I finally did it. I actually took a vacation, Yes, I did have a couple of other people along, but it wasn't one of our bigger tours where I was driving, cooking, loading luggage, etc. These people had to help and do their own thing.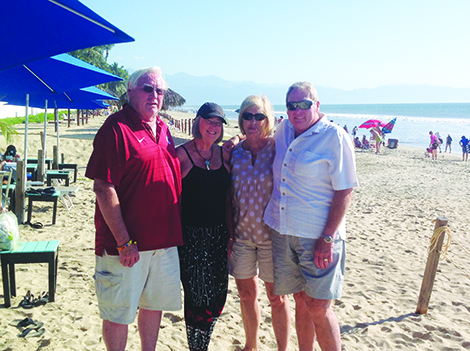 We went to Puerto Vallarta for a two-week stay at the Grand Mayan Resort. What an amazing place. A beautiful two-bedroom condo overlooking the pools, the beach and the ocean. It would have been easy to just rest with a good book and enjoy it all, but I don't ever seem to sit still.
Puerto Vallarta is a very large town. No more sleepy "Night of the Iguana" hideout. This town has a huge variety of restaurants and bars and shops that never seem to end.
I was invited to a "fashion show" sponsored by Deja Nu, a used-clothing store, that was a benefit for an orphanage. It was a wonderful luncheon with models walking round showing off outfits that you could literally buy off their backs. A fun time with a reward for kids in need.
Another "gift" I was given was to meet up with a charity that has become one of my favorites. It translates to "the children of the garbage dump". Before leaving home I found a few incredible sales and bought children's clothing. My extra luggage was packed tight with children's clothing. These youngsters, who have nothing, work so hard to get schooled and try to help themselves onward to a better life.
Another day was spent in the tiny town of Bucerias. It was festival day for Mary of Peace. Boats come down the coast for a "blessing of the fleet". They sail in the form of a cross, arrive by storming the beach, and parade to the local church for Mass and a blessing. There is music, dancing and food and more food. Shops are open and the locals share with everyone.
A vacation is something that let's you take in the wonders of where you are. Come with me on a vacation for yourself. It could be a one day trip to the Harness Races on March 18 or the Tulips on April 19. Or it could be an Alaska cruise in July ,the Albuquerque Balloon Festival in October, a Mississippi River cruise in November, or an European riverboat in 2019. Call Linda Finch at 253 927 8207 or email to linda.finch@gmail.com for further information.
Linda Finch, who wrote this article, is a trip planner.