Crosscut
Egg shortages in Washington are expected to continue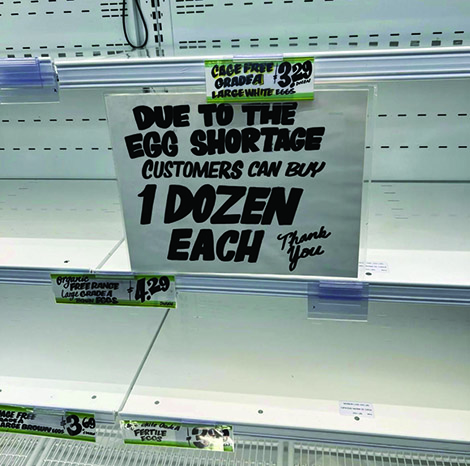 d. And according to one Seattle environmental microbiologist, the timeline for that is unknown.
Chicken eggs have almost always been an easily available and relatively inexpensive staple, but the shortage that began last year with the latest sweep of avian flu has made them increasingly expensive and difficult to find. According to the Consumer Price Index, nationwide egg prices have gone up 60 percent in one year.
As with other rising food costs, the high price of eggs results from shortages. Avian flu has been the major reason, because so many birds have been affected and killed. The U.S. Department of Agriculture reports that over 58 million birds have been affected in 47 states. The Washington Department of Fish and Wildlife reported 151 cases of avian flu in Washington in December 2022.
To control the potential spread of avian flu in Washington, the state Department of Agriculture has established policies for quarantine and the elimination of infected flocks. Farmers have been forced to destroy entire flocks of chickens if even a single bird tests positive.
"Many farmers spent years building up their flock," said Kevin Scott-Vandenberge, the owner of Portage Bay Grange, a small chicken farm in Seattle. "Now bird flu has become their most sensitive topic. Once their chickens were infected with the virus brought by wild birds, they lost everything they had."
According to Vanderberge, wild pigeons are one of the most persistent avian flu threats.
John Scott Meschke, an environmental microbiologist and associate chairman of the University of Washington's Department of Environmental Health Sciences, sees avian flu through an ecology lens.
"Climate change has altered the flight paths of many bird species," Meschke said. "As a result, the species of birds that come to Seattle have become unpredictable, and these exotic birds bring more potential viruses with them."
The National Audubon Society reported that over the past 40 years, more than 60 percent of North American bird species have shifted their ranges northward, by an average of 35 miles.
Seattle grocery stores have managed the current egg shortage through their long-term collaborations with food distributors that work with a wide range of suppliers and have the resources to quickly identify alternative supply sources when shortages occur.
"We haven't predicted this crisis, but our routine of forecasting the egg demands and pre-ordering helps us maintain our supplies," said Nihad Delic, a warehouse manager for District Market in Seattle. While stores like Fred Meyer and Whole Foods have limited egg purchases to one or two cartons per person, District Market's egg display has never been empty and the price has not gone above $2.99 a dozen, according to Delic.
"As farmers kill birds carrying the virus and businesses raise the price of eggs, there is too much focus on how to minimize their harm from avian bird flu when the results have already been produced," Meschke said. "People should put more attention on how to control avian bird flu."
While the U.S. Department of Agriculture is monitoring avian flu, including developing guidelines for controlling outbreaks in commercial poultry operations, these efforts can't control the illness in wild bird populations and among birds that don't appear to be sick.
"There is still a long way to go to effectively control bird flu," said Meschke. "More people should be involved in this project."
Source: Crosscut.com, a non-profit Pacific Northwest news site and part of Cascade Public Media.