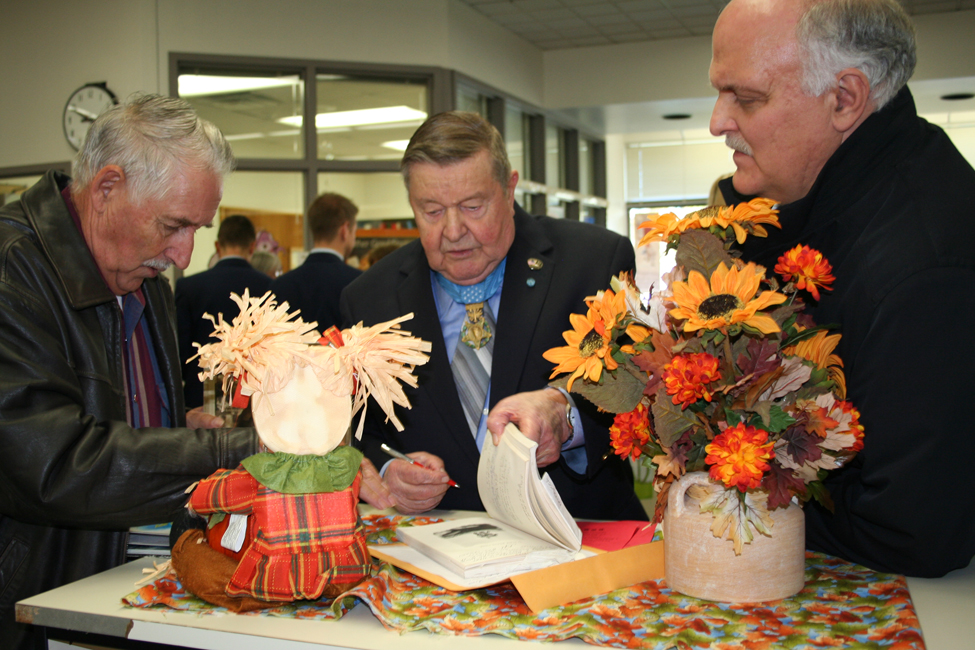 For 25 years, Tyee Park Elementary's  exuberant music teacher, Tracey Lundquist has packed the school's tiny auditorium with uniforms of every type.  Most children's events don't draw the kinds of crowds that covet seats and force people to stand outside looking in doors or windows but at this tiny school in Lakewood, sailors sit cheek to jowl with Marines, airmen and soldiers as students from every ethnic background give enthusiastic and heartfelt thanks to active duty military and American veterans of every war since World War II.
The 56th Army Band opened the event on Nov. 3 with "Soldiers of Swing" and then the children launched into songs specific to the eras of various military retirees, starting by honoring the Pearl Harbor survivors with "Remember Pearl Harbor."  Lundquist drew a parallel between the attack on Pearl Harbor and September 11, 2001.  "Boy and girls," she said, "None of you will remember, but for the rest of us, we will never forget."
Lundquist told her audience that children often ask her what a veteran is.  She tells the children, veterans are America's Treasures.
One veteran at the event was Col. Joe Jackson.  A video introduced Jackson with a story of his most daring rescue.  He joked afterwards, "I'm kind of sorry you showed that video.  It scared me all over again."  Jackson, who served his country in three wars, earned the Medal of Honor in 1968 for a daring rescue of a combat control team at Kham Duc, South Vietnam. He's famous for his letter home that day that began, "Dear Rosie, I had a very exciting day today.  Someday I'll tell you about it."  Every year since Lundquist started the program, this American hero has spoken to Tyee Park children about what it means to be a citizen, how important it is to use their schooling to be educated and active voters and how they must participate in the process.  He told them, "Country is not made up of earth and water.  It's made up of people.  You have a certain responsibility."  When you're young, he said, you're responsibilities lie in making your bed, telling the truth and obeying your parents.  "As you grow older, responsibility changes to participating in government and voting.  It's about preserving the freedom," he finished, "that other people have gained for you."
Michael Reagan, of the Fallen Heroes Project spoke about his foundation's mission to honor the American Fallen Heroes.  He presented the school with a framed image of an American eagle and then surprised Lundquist with her own portrait.
The sad note to the day came when the children paid tribute to Former Joint Chief of Staff, General John Shalikashvili, who died this summer.  For years, the retired general and his wife have participated in the Veterans Day celebration.  Children, who had just begun to learn to read, have each year been able to brag about their ability to pronounce a name that twists most adults' tongues in knots.
Unfortunately, the school has chosen to end the widely popular program that introduced the children to veterans of Pearl Harbor, the Tuskegee Airmen and thousands of active and retired veterans from every war since World War II.