My adventure began very innocently on a Sunday morning, after church services during the social hour where we gather for coffee and dessert.
Visiting with several other church members, I became part of a conversation about an upcoming hike the following Saturday. Jim, head of the outdoor "God in Creation11 church activity, was talking about the hike. I thought we will heading for Snoqualmie Falls this Saturday. It will be a moderate five-mile hike and have a spectacular view. Probably be home by 3 p.m. So I asked if anyone could go? Jim answered, "The more the merrier. Just bring a jacket, a lunch, and walking sticks if you feel it necessary. We'll meet at 9 a.m. in front of the church."
The conversation continued regarding past hikes the group had taken on various trails. Their stories were contagious, making the upcoming hike sound exciting.
I decided to be at the parking lot Saturday morning, ready for my adventure. To prepare, I took a shopping list of items I would need to our local sporting goods store The clerk was most helpful in assisting me in choosing the perfect hiking sticks, a good pair of comfortable shoes with solid traction, a small backpack to carry Band-Aids (for blisters)1 extra socks (for wet feet), and an energy bar. Although she did mention a rain poncho, I didn't add it to my shopping cart, remembering that the weather man had predicted clear skies. It turns out that I should have bought the poncho.
Snoqualmie Falls is located in the foothills of the Cascades. When I researched it online, I was excited to learn that I would be seeing one of the state's most popular scenic attractions — 270-foot waterfall that attracts more that 1.5 million visitors every year. I could hardly wait.
Finally, the big day arrived and I was up early. I'm from strong Norwegian stock with the stubbornness and stamina of my Viking ancestors, and in that light, I left the house with a renewed determination to ignore my many birthdays. Let the quest begin!
We met at the church, and our party of six carpooled to the trail entrance. The chatter in the car included a weather observation that it might rain. My thoughts went immediately to the prospect of aborting this trip, for surely we wouldn't continue on the dirt trail in the rain, which would be turning to mud. Why had I pictured a wide path in the sunshine? But Jim just kept driving the hour-long trip.
Upon arriving, we got our gear out of the trunk and headed out in single file toward the falls, which lay ahead by only a few miles. As the novice, I automatically took the last position. The trail started out at a slight incline, and after about an hour or so it became apparent to me that I was starting to lag behind. My legs were starting to feel weak, but I kept giving myself encouragement like the children's story of the little train that said, "I think I can, I think I can." Then we felt a few drops of rain and I got to thinking about that poncho.
We could hear the falls now and feel the cool dampness in the air, when Jim gave a shout. "There it is! I can see it from here. The worst is over, Marge. It's all downhill from here."
We stopped for a while to take in the vista of old-growth cedar, maple and fir trees covered in moss which hung from the branches, giving a ghostly aura, and under the trees was a thick entanglement of huge ferns and undergrowth. To my right lay the pit of the deep valley where the rushing waters from the falls had pounded for hundreds of years, etching its way toward the sea.
While resting and thinking of the grandeur of God's creation, I heard Jim make the announcement that we should start our return: "The rain is getting heavier and it will make the downhill trail slippery."
We gathered our things and formed a line for our hike down to where the car was parked. As the wet trail narrowed, I was aware that the slope was becoming steeper and it seemed to be sloping toward the gaping valley far below. Several times I had to ask for Jim's help in making the switchback without falling. The weather worsened and the rain gave the trees a canopy of drips that muddied the trail. My shoes often slipped as though walking on glass, but I righted myself with the aid of my walking sticks. My denim hat was soaked and I had trickles of water running down my face. I may not have had that poncho, but I was grateful for my sturdy shoes and walking sticks.
And then it happened. My footing once again slipped and I couldn't stop the wet rocks under my feet from rolling. I totally lost my balance, spinning toward the ravine below. I heard myself screaming in panic and fear and remember thinking I was going to die at the exact moment Jim's strong arm grabbed my hand in mid-air and prevented my fall. With one quick swoop, he pulled me to safety. I was stunned, shaken, and deeply grateful. The group made light of my misstep
and I went along with that tone, but I was shaken to my core.
We continued down the path, found a picnic table and ate our lunches. We talked about the hike, the waterfall, the misery of the rain, and of course, my rescue by Jim from either being crippled for life or dying. Just thanking him seemed so small a gesture, but it was all I had to give. Sometimes words just seem
inadequate .
In the few days that followed, I felt something mystical had happened on that hike. Would I have died if not for Jim? I have never known such fear of death, and as though there was a tape in my head automatically set on rewind, I experienced that fall again and again.
I've always been aware of my guardian angel and his presence at different times in my life, giving me his strength and guidance when needed. I did feel his wing of protection over Jim and me that day. Someday I'll know for sure. But for now, in this life, I know he was with me on the mountain.
It certainly is a day I'll never forget, and it was a good lesson for me. I never think of myself as 80 years old. I think young, look young, and am always ready for something new. But hiking? If you know of anyone who needs a pair of walking sticks …
Marge Stormo, who wrote this article,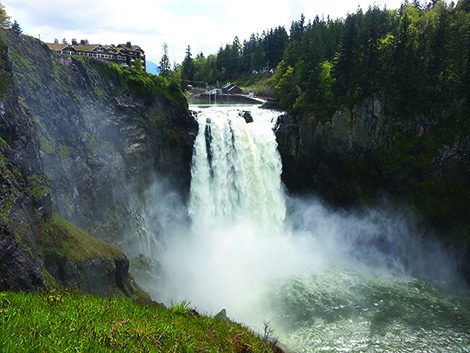 lives in Enumclaw. She moved there from Florida.