Puyallup Activity Center supervisor Doug McCormick hopes the public knows that the center is a community facility.
It operates under the Parks and Recreation Department of the city of Puyallup and offers a variety of activities for citizens 55 and older.
"The center provides support and a meeting place for older adults to interact with each other, and provides education and recreation, as well as fitness, nutrition and other necessities," said McCormick.
Serving about 1,200 seniors every single year, the activity center requires no membership fee, although some programs such as trips and tours would require one. Most of the classes at the center are free of charge.
McCormick said a number of adults who go to the center for companionship and to take part in the programs end up volunteering.
Joan Cronk is a freelance writer who lives in Puyallup.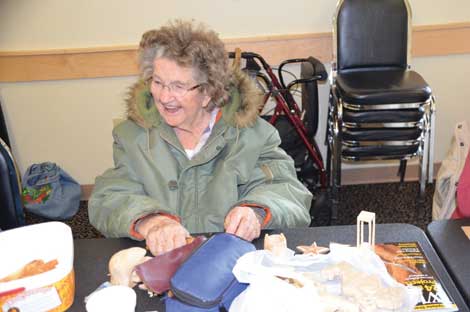 "There are about 294 volunteers throughout the year. That would be about 12,000 hours of service, and we wouldn't be able to operate at the current level of service without them," said McCormick.
Volunteering is just one of the tools that older folks can use to stay active, said McCormick.
"It deepens their social networks and definitely reduces the likelihood of social isolation," he said.
The center offers a variety of programs on a daily basis.
Thursdays from 9 to noon, a group of men and women meet for woodcarving. Kay Lang has been carving for about 10 years and is always working on something.
"I like the people here, and everyone makes you feel welcome," she said.
Retired chemist Charles Hochmuth, who is nearly 91 years old, said he just looks at a photo of a woodcarving and carves from that. He likes to share his creations. "I just give them away," he said.
Al Neeley's specialty is wood stars. He cuts them out at home, and then brings them to class every week to share with others to enhance as they like. A former cabinetmaker who owned his own construction company, Neeley said the weekly get-togethers are a great social time.
Next door to the woodcarving group on a Thursday was a storytelling session led by Linda Phillips.
"There are a variety of people and experiences that come, and I learn more from them than they do from me," she said. The class meets on Thursdays from 10 to 11:30 a.m..
Phillips, who was a recreation leader at Rainier School, says older adults are capable of learning new things. She also does instruction on how to use the Internet and use digital cameras.
Loretta Reynolds, who is edging close to 90 years old, enjoys the storytelling class. Phillips gives class members a list of ideas to help them pick a topic.
"People ask me when I'll finish my life story, and I tell them as long as you are still living, you can still write it," said Reynolds.
The Puyallup Activity Center offers a workout room, as well, and John Herbertson and Jack Porter both say they visit it every day to work out. They rotate on the exercise machines and use free weights in their daily program.
Information on center activities can be accessed on line at http://www.cityofpuyallup.org/services/senior-services/
McCormick said the center is available for rentals and can accommodate a wide variety of special occasions at a reasonable price.