Seattle has been lucky enough to be one of two cities chosen to view the amazing Terracotta Army. This collection of terracotta sculptures depicts the armies of Qin She Huang, the first emperor of China. The army was buried with the Emperor in 10 B.C. to protect him in the afterlife.
We started our exploration with a stop to see the IMAX documentary "Mysteries of China." This tells "the story of ancient China, the first emperor and the literal foundation of the China we know today." The documentary and its recreations make the exhibit more believable and easier to understand.
The statues were discovered in 1974 by local farmers digging a well in Xian, China. It is estimated that over 8,000 soldiers, 130 chariots with 520 horses and 150 cavalry horses were buried in three pits. The figures are lifesize and vary in height, uniform and hairstyle according to their rank and/or position. There are a variety of uniforms within the rank. Originally the figures were painted with bright colors, but when exposed to the air, much of the paint flaked off. Several re-created figures have been painted to show what they would have looked like.
Other figures of non-military types were found in other pits. These included officials, acrobats and musicians. Presumably, these were to assist and entertain the emperor in the afterlife.
The assumption is that the figures were made in workshops using local materials. Body parts were made separately and assembled near the pits, where they were then placed in precise military order,
Most of the figures held real weapons, many of which were either looted or rotted away. However, many smaller artifacts such as arrowheads, smaller swords, and daggers have been found intact.
Ten figures and other artifacts are on display at the Pacific Science Center and will remain there until Sept. 4.
Amazing mountain
Amazing in its own right was our trip to Mount Rainier, certainly as ancient as the Terracotta Army, and ours to view almost every day. We live in a beautiful part of the world, and it is so great that we can appreciate it firsthand.
We took the day to drive to Paradise, see the wildflowers blooming and even make sure we had a snow cap to melt away and send us the water we need to keep us beautifully green. We had lunch at the lodge and, of course, made a stop at Copper Creek for blackberry pie on our way home.
There is still time to sign up for the February tour to Cuba. Trump seems to be adding some restrictions on travel to this country, but Collette Tours has been qualified as a People-to-People entity and one of the ways you can legally take this adventure.
If you are quick, you may even be able to find space on the Sept. 23 Alaska cruise on Norwegian Jewel. This is a 10-day cruise out of Seattle with a return to Vancouver. A variety of rates are still available.
Now is the time to really be thinking about next spring. We have blocked space with Viking River Cruises for eight days out of Basel to Amsterdam and then, if you wish, continue on for another 10 days to explore tulips and windmills. Really nice cabins and an amazing airfare are available.
We are also holding space with Holland America out of San Diego to Vancouver on May 1 if you would be interested in a coastal cruise.
For reservations and information, contact me at 253-927-8207 or linda.finch@gmail.com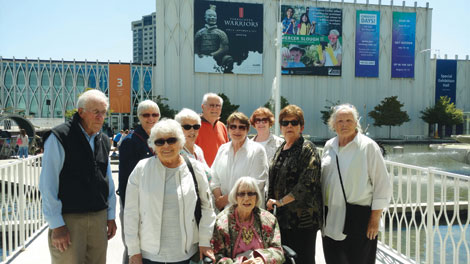 Linda Finch, who wrote this article, is a regular contributor to Senior Scene.