Things, as we all know, get improved or replaced on a fairly regular basis.  The cars we all drive don't suddenly expire at the end of four years but many people choose to replace them with a newer model, different color paint or improved options after just that short period of time.  If we want to get a new vehicle, we take the old vehicle if it's still in good condition to a car dealer and we "trade it in" for the newer vehicle.  Well think about this.  What happens to things that aren't quite as fun when the people who own them want something new?  What happens for instance when the dental chair is tired and doesn't look so good with the new carpeting or wall color?  What happens when catheters, yes catheters aren't used and a doctor retires and closes shop?  What happens when something that was manual comes in a new electric version?  What happens is it goes to Gateway Medical Alliance (GMA).  Or at least it probably should.
In the early 50s, Michael Spiger was an Air Force brat whose father was stationed in Morocco.  He developed a love for Morocco that continued into adulthood and visited it several times. There's a medical need in Morocco but the country's laws don't allow foreigners to practice medicine there.  In 1997, Spiger, now Dr. Spiger, collaborated with several Moroccan friends to send a shipping container of medical supplies and equipment over.
Spiger quickly realized that managing this new operation required full-time dedication and so in 1995, Spiger retired and he and his wife, Anne, launched what would become GMA.  They ran their operation out of their home for 10 years but now own an office on Canyon Road in Puyallup.
About 20 dedicated volunteers, mostly retirees, meet at a warehouse once a week and do inventory processes; sorting and packing donated medical supplies. "It doesn't come like this," said Del Platter, meaning the neatly stacked, sorted and shrink wrapped pallets that line the warehouse.  He and his wife Irma have volunteered at GMA for 11 years.  "Mike and Anne came to our church and asked for volunteers for Morocco.  We got stuck in our hearts."  He added, "We went to Morocco once and worked at the other end.  It's really an eye opener.  I think everybody should go overseas once."  On their trip they saw a little girl with disabilities.  "We stopped at an intersection and interviewed the mother.  You looked at the little girl and you just…" he sighed and held his heart, "melt.  That trip was very satisfying.  The only trouble is it gets in your blood and you want to keep going back."
On this end, once they have around 900 cartons, the volunteers pack a 40-foot shipping container to send to Morocco.  Each container contains roughly $300,000 worth of donated equipment and supplies.  GMA ships a container every three months.
GMA partners with Moroccans in everything.  They work with charitable organizations over there to distribute the equipment and in the process the organization builds relationships.  "We want to break down stereotypes that Muslims have toward westerners and in turn we get to learn about them," said Spiger.  "It really is a people-to-people organization.
"We love them.  We want them to know we care.  We act as a catalyst to improve the lives of the poor and the underprivileged," he said.  "These gifts go to university hospitals where we can bring poor people to them (the hospitals) and they do surgery on them."  In addition to shipping supplies and equipment, GMA sponsors physical therapy centers, short-term dental clinics, community health education, fire fighter exchanges and share medical expertise with teaching hospitals.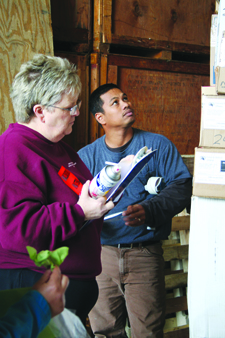 While the majority of their equipment and supplies come from hospitals and government organizations, GMA also has needs for adult diapers, bandage materials, the previously mentioned catheters and other personal supplies.  "The high tech stuff can't go out to the outskirts 'cause they don't have facilities," said Del Platter.
"We like wheelchairs and walkers particularly," added Spiger.  They also have a relationship with Children's Therapy Center in Puyallup and "they give us children's equipment when they (the children) outgrow them.
If you would like to learn more about GMA, go to their website, www.gatewayma.org.