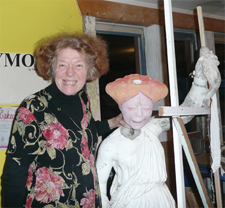 Lynn Di Nino was born in Roswell, New Mexico, one of five children raised by a single mother.  Di Nino and her siblings had minimal supervision, for their hard-working mother, receiving no financial assistance from any other source, often had to hold down two jobs at a time.  The children became adept at adapting to their circumstances in the bare, dry, dusty town that was Roswell.  They scoured the streets and by-ways for any thing that could be either used or sold.  Lynn recalls harvesting wild asparagus that came up through cement cracks.  They'd package it and then go from house to house selling their find for 3-5 cents a bag.  Di Nino attributes her hard work ethic, her tenaciousness, and her ability to live and work on a shoestring to these early years and ultimately contributing to her ability to be self-sustaining as a free-lance artist since 1974.
"The brain just doesn't stop working," was one summary Di Nino offered to describe what it is to be an artist.  The ordinary can easily become the extraordinary.  For example, one day she opened a book to the page headed "Table of Contents."   She saw that ordinary phrase suddenly take on extraordinary properties and before she knew it, she had constructed a new piece.
Likewise, when she walks through her favorite store, Goodwill, a kitchen gadget could suddenly be seen as, perhaps, an arm or a leg for a creature she has yet to build.
All creatures are grist for the mill of Di Nino's fertile imagination. In the mid 80s and early 90s especially, she traveled to other countries and continents to study their animals.  What were the salient features that identified each animal? What kind of spirit did their demeanor demonstrate? How did they appear during various activities at different times? By studying the animals, Di Nino could select those features that could be used in the stylized structures she created.  She welds a metal frame, or skeleton, over which she lays a hybridized concrete.  Over time, she became a leading expert in use of that special concrete and for ten years she was an instructor at the famous Pratt Institute in Seattle where she also had her work represented in several faculty shows.
After living and working in Seattle for 32 years, Di Nino moved to Tacoma in 2001.  She arrived expecting to find a community of artists, but try as hard as she could, she could not identify where that community congregated. Di Nino appreciates language, often finding humor in common words, but she is serious about one important word: "community." Believing community to be a dynamic essential for artists to thrive, she established what has become a durable part of the local art scene, the 100th Monkey* gathering. The first party's success became the pattern for subsequent parties which Di Nino continued to host for three years before she handed off the reins. By this time she had become an icon in the Tacoma art scene, supporting, advising, innovating, cooperating.
Di Nino's resume consists of 15 pages, single-spaced, and it is still growing because she is still exploring, still creating.  Most recently, she constructed, from recycled materials, 25-30 coats, some of which will be in a show. Or consider her October show at the Sandpiper Gallery in which the humble, paper coffee filter is transformed into delicate jewelry.  Meanwhile she belongs to a group that sponsors a monthly slide show called TRIPOD.
Tacoma has grown fond of Di Nino, for she has roused the rabble (Tollefson Plaza), created a head rolling (First Night), challenged our view of what is normal or the expected (the red door project), and taught us we could turn a suitcase into an art object.  It is not surprising, then, as I write this that there are articles and blogs that review what she has done for our city in her ten years in Tacoma as we prepare to celebrate the tenth anniversary of Art at Work month in November.
For more information visit Lynn's webe site:  www.lynndinino.com.
*If you are interested in learning about the 100th monkey premise, one source is http://en.wikipedia.org/wiki/Hundredth_monkey_effect.