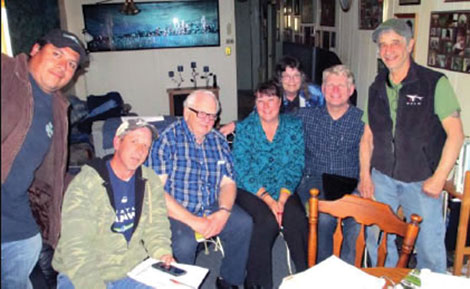 "We're more of a community than ever before, and that's a really good thing," said Del Vecchio, who has lived in Elmwood for eight years. "It's a big deal to have a place we can own and can project what our rent's going to be for about 10 years."
The homeowners in the now resident-owned community, located on a quiet road near Puyallup in what once was a mostly agricultural area, formed Elmwood Homeowners Cooperative and purchased the land and infrastructure for $2.16 million. Financing was provided by ROC USA Capital, Mercy Loan Fund, the Washington State Housing Finance Commission, and JP Morgan Chase.
Many of the residents in Elmwood moved there to retire and have significant personal equity invested in their homes, said Michael Sloss, managing director for ROC USA. If not for the purchase by the residents, he said, the land would be subject to redevelopment, as has happened with much of the surrounding farmland. Instead, it will be preserved for all time as affordable housing — with a reserve fund for capital improvements over the years.
Sloss said Elmwood is the sixth resident-owned community financed by ROC USA Capital in Washington. The arrangements have permanently preserved a combined 230 homes as affordable housing.
"We're thrilled to meet the community acquisition needs with our unique financing," said Sloss, pointing to the involvement of the lending partners. "The preservation of the homes in Puyallup through affordable, fixed-rate community financing so close to Seattle and Tacoma will have lasting impact here."
He said ROC Northwest of Olympia will continue to provide technical assistance to the co-op for the length of the mortgage — at least 10 years.
Ben Dryfoos-Guss, manager of ROC Northwest's manufactured housing program, said many of Elmwood's residents have lived there "for decades and were quite concerned about the security of the land under their homes. By establishing the co-op to purchase their community, they were able to safeguard their homes. He said the residents showed "incredibly strong leadership and inspiring initiative."
In a resident-owned community, homeowners each buy one low-cost share and become members of the co-op, with one vote per household on matters of the community. They elect a board of directors to act on day-to-day issues and vote on larger matters like the annual budget, bylaws and community rules.
That empowerment is important to Washington State Housing Finance Commission, which helped ensure an affordable interest rate. In 2014, the commission's partnership with ROC USA and ROC Northwest to preserve manufactured-home communities won an award from the National Council of State Housing Finance Agencies.
"We are proud to be a part of helping these diverse communities become self-owning, self-determining cooperatives, and to be recognized with our partners for an innovative and highly successful partnership," said Karen Miller, the finance commission's chairwoman.
The ROC USA and Mercy Loan Fund financing was made available in part through a $4 million grant from the JPMorgan Chase. The latter has a program to improve access to capital for small businesses, affordable housing and healthy-food networks.
Representatives of JP Morgan Chase and Mercy Loan Fund expressed the need to help communities meet housing challenges.
"Manufactured housing is too often overlooked as an affordable route to successful home ownership," said Jason Battista, president of Mercy Loan Fund, a subsidiary of the national affordable housing organization Mercy Housing, which provides financing to local non-profit organizations to help preserve affordable housing.
More about the financing partners:
• ROC USA (www.rocusa.org) is a non-profit national network of eight organizations (such as ROC Northwest) and a national financing source for resident corporations. It's sponsored by the Ford Foundation, NeighborWorks America, Capital Impact Partners, the Corporation for Enterprise Development, and the New Hampshire Community Loan Fund. Nationally, ROC USA has helped 76 communities preserve 4,882 homes in 14 states.
• ROC Northwest (www.rocnorthwest.com), located in Olympia, is a subsidiary of Northwest Cooperative Development Center, a non-profit organization for new and existing cooperatives in Oregon, Washington, Idaho and Hawaii.
• Mercy Loan Fund (www.mercyloanfund.org) formed in1985 and has made 473 loans in 39 states for $269 million, resulting in 20,700 affordable homes for over 55,300 residents. Mercy Loan Fund is certified by the U.S. Treasury Department as a Community Development Financial Institution.
• Washington State Housing Finance Commission (www.wshfc.org) receives no regular state funding for its operations, but works on public investments with lenders, investors, developers, non-profit organizations, first-time homebuyers, beginning farmers and ranchers and energy companies.
• JPMorgan Chase is a financial services firm with assets of $2.6 trillion and operations worldwide in investment banking, consumers and small businesses, commercial banking, financial transaction processing, and asset management.