When flu season hits, it can affect anyone and everyone. Catching the flu can cause you to miss out on life's most memorable events, such as a vacation, family gatherings and get-togethers with friends. With cold and flu season right around the corner, it's now more important than ever to take precautions to remain healthy throughout the fall and winter, especially if you're over the age of 65, as seniors are at greater risk of developing severe flu-related illnesses.
Here are some flu prevention tips for seniors to help stay healthy throughout the entire flu season:
• Get an annual flu shot.
The Centers for Disease Control and Prevention (CDC) recommends that everyone six months and older get a flu shot as soon as the vaccine is available. According to a recent CVS/pharmacy study, over three-fourths of seniors (76 percent) get the flu vaccine every year and/or plan on getting the flu shot this year. Getting an annual flu vaccination is the best protection available against catching or spreading the flu.
• Educate yourself on flu vaccine options, costs and availability.
Seniors (those 65-plus) can receive the "Fluzone High Dose" vaccine, which contains four times the antigens of the regular flu vaccine and is designed to create a stronger immune response. Vaccines are available at your local drug store, and for most, the costs are completely covered by insurance, including Medicare Part B. With more than 7,800 CVS/pharmacy stores and 900 MinuteClinic locations across the U.S., offering flu shots with no appointment necessary, it is easier than ever to get vaccinated whenever it is convenient.
• Frequently wash hands throughout the day.
Touching everyday items like door handles and other surfaces can be difficult to avoid. To help combat germs, wash hands frequently with soap and warm water for at least 20 seconds and avoid touching your mouth and eyes.
• Practice good health habits.
Ninety-five percent of senior Americans (ages 65-plus) report they would take actions, including regularly washing hands, drinking more water, and taking vitamins to protect themselves from catching the flu. Getting plenty of sleep, being physically active, managing stress, drinking adequate fluids, and eating nutritious food are all healthy habits that can help to keep your immune system in top condition during flu season.
• Make sure your grandkids are safe.
Children younger than age 5 are at high risk for flu-related complications. For school-age grandchildren, remind them of the importance of hand washing and using tissues when they sneeze. Please note the influenza vaccine is not approved for children younger than six months of age, making it all the more important that family members who will be around young children throughout the fall and winter get flu shots – not only to protect themselves, but to protect their loved ones, as well.
If you experience flu-like symptoms, contact your healthcare provider immediately. If you have the flu, your doctor can prescribe antiviral medications that can make your symptoms less severe and make you feel better faster.
It's not too early to get your flu shot. The sooner you get a vaccine, the better, as it does take two weeks for antibodies to develop in your body after receiving the vaccine. According to a study from the U.S. Naval Health Research Center, "getting flu shots early in the fall, before the flu season begins, may prevent the greatest number of flu cases."
Get ahead of the illness as early as possible to avoid missing out on some of life's most memorable moments, especially during the holidays.
Tom Davis, who wrote this article, is a registered pharmacist and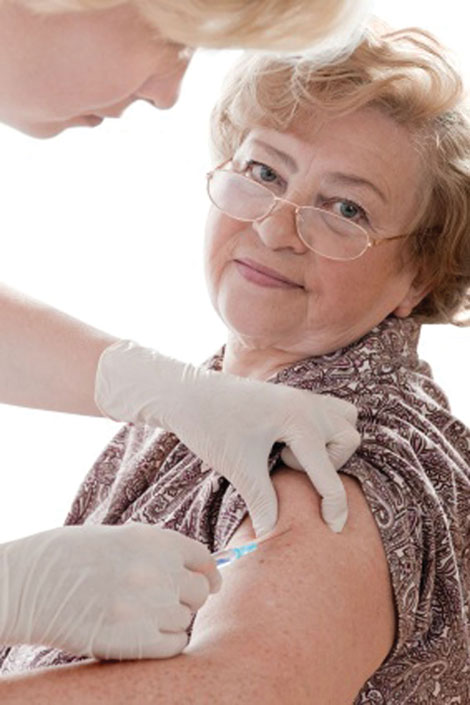 vice president of pharmacy professional practices at CVS/pharmacy.