Bill Baarsma calls himself a Tacoma guy and a history buff.
The former University of Puget Sound professor and two-term former mayor of Tacoma has served as president of the Tacoma Historical Society for the last four years. He was just re-elected for another term.
The historical society began 25 years ago and "was formed primarily because people thought that the Tacoma story was being told by the Washington State Historical Society," said Baarsma. "We felt there needed to be an organization that would tell the Tacoma story and retain and archive treasures from Tacoma's past."
The first anniversary of their new museum location at 919 Pacific Ave. in the Provident Building is fast approaching. The cozy and easily accessible storefront is open to visitors free of charge Wednesday through Saturday from 11 a.m. to 4 p.m. The exhibit "Greetings from Tacoma: Souvenirs and Boosterism" closed at the end of March and showcased treasures from the Top of the Ocean restaurant that once was a waterfront landmark, the Never Never Land family attraction that was a longtime icon at Point Defiance Park, and Cheney Stadium, just to name a few.
"Golf History for Non-Golfers 1894-1944," opened March 29 and will run through July 31.
The first location for the historical society was on South Cedar Street. Baarsma described that location as "difficult to find, but at least it was 1,500 square feet where they could put their collection."
The society relies on fund-raising to keep things rolling, and their first Tacoma Historic Tour of Tacoma Homes and a Destiny Dinner helped them get off the ground.
An exhibit center on Broadway in the early 2000s opened to what Baarsma described as "great fanfare," but when the city formed the Broadway Local Improvement District in downtown, visitors couldn't reach the new location and the building was closed and the staff was laid off. Finding a suitable location downtown became the society board's main goal.
"We had searched for a number of years and looked at a lot of options when this location (on Pacific) opened up," said Baarsma. The new location offers two suites and over 3,000 square feet.
"We could have a site for our archived documents and objects and a place where we could put the newspapers back to the 1880s, and a place for the exhibit center. We could call it our museum," said Baarsma enthusiastically.
The Tacoma Historical Society is more than just a storefront in downtown Tacoma. Each month they present a lecture at UPS, free and open to the public, on a subject related to Tacoma. And the Tour of Historic Homes is the first weekend of May each year. The tour is an opportunity for people to experience Tacoma's history by walking through homes built in the 1880s and learn about people who lived in those homes and how they shape and affected the city, said Baarsma.
Bill Evans, owner of the Pacific Northwest Shop in Tacoma, opened his home to the tour once in the mid-1990s and again in 2014. Hundreds of people walked through it, and Evans said it was a great experience for his family.
"It is so important to remember the people who lived in those structures and the events that took place there," he said.
The annual Destiny Dinner honors some aspect of Tacoma's heritage. Past honorees include the history of rock and roll, an event honoring artists who have performed at the Pantages Theater, the military, and sports in Tacoma with a banquet at Cheney Stadium inviting past athletes.
This year's banquet will be held on Sept. 27, and the theme will be the men and women who helped build Tacoma over the years. T
he first weekend in June, the Society puts on their extremely popular cemetery tour, with re-enactors portraying people who were buried in the Tacoma Cemetery.
Membership in the society costs $25 for one person and $35 per family. The website for more information is www.tacomahistory.org.
"Compared to other non-profit organizations, history is a tough sell. It is difficult to get people to write big checks, and we are always scrambling to raise money to provide for this museum. We aren't government, and we rely on our supporters to help us pay the bills," said Baarsma.
The society publishes books, as well.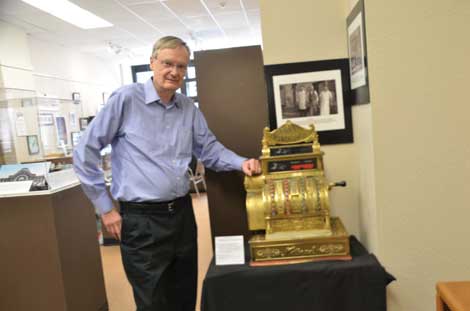 "Rising up from Tacoma's Twenty-One Disasters and Defeats" was based on topics chosen by the 2012-13 students of Seabury Middle School, and 1,500 copies were presented at no cost to all elementary schools in Tacoma.
The Society's mission is to preserve, promote and present Tacoma's History. "We are the only organization around that does that. We are it. If we go, there is no Plan B," said Baarsma.