On Dec. 10, in time for some holiday cheer, the Puyallup Lions Club served a hearty breakfast to 110 seniors free of charge at the Puyallup Activity Center – a tradition that will continue, thanks to help from other community groups.
Ferrucci Junior High School band members and the Touch of Class combo provided seasonal music as seniors gathered for what has become a longstanding monthly event. The Lions Club has been hosting a breakfast for seniors the second Saturday of every month, except for September, for the last 30 years, according to John Budzak, secretary of the club.
The breakfasts are $4 per person, except for the one in December, which is the club's gift to seniors. All funds raised at the monthly events are funneled right back to the city-run Puyallup Activity Center for senior activities.
Budzak said the club has been in business since 1954 and has enjoyed serving the monthly breakfast. However, the club members are aging and are looking for a way to turn the breakfasts over to another group.
"The guy flipping pancakes is 80 years old, one member has had triple bypass surgery, and my health precludes me from standing up for long periods," Budzak said.
The solution: On Dec. 12, the Service Clubs of Puyallup met and voted to continue the monthly breakfasts, including the free meal in December. Members of the Lions Club, Rotary Club, Kiwanis Club, Altrusa, VFW, Masons and Association of U.S. Army based in Puyallup make up the umbrella organization. Members meet each month and discuss events that are upcoming. Their goal is to make Puyallup a better place and support each other. Taking over the monthly breakfasts and splitting the labor involved between the clubs seemed like a positive way to do that, said Curtis Thiel, the founding member of Service Clubs of Puyallup.
"We would divide the work between the service clubs, cycling through every month and provide assistance for that program. I think it is a great idea," he said.
Thiel said the new plan gives each group an opportunity to be more visible to the public.
"We are working together and trying to get the word out that we are here and doing good for the community," he said.
Another bonus, said Thiel, is that some folks in the community haven't visited the Puyallup Activity Center.
"Rotating different clubs through the breakfast exposes people to all that the center has to offer and makes our community strong and more inclusive," he said.
Budzak said he and his fellow Lions are grateful that the breakfasts will now be a joint venture.
"We've enjoyed our time working with the seniors and our long relationship with them, but we just can't continue every month. We've had a lot of fun doing this, but at this time we need help in continuing this project," he said.
Joan Cronk, who wrote this article, is a freelance writer from Puyallup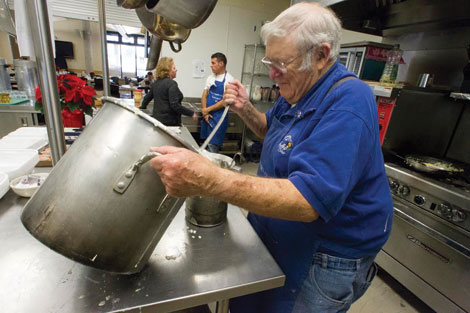 .