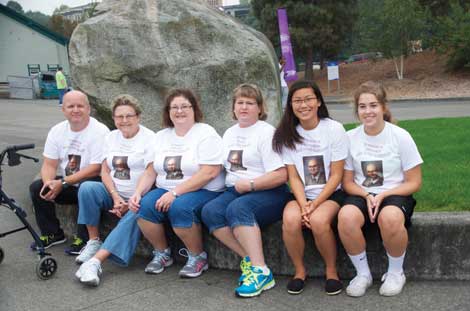 A drizzly Saturday morning didn't stop the Walk to End Alzheimer's, held at Thea's Dock in Tacoma, from being a huge success.
Event coordinator Trisha Averill of the Alzheimer's Association said the yearly walk is their largest fund-raising event.
There are over 650 such walks throughout the United States and 10 in western Washington. Because September is National Alzheimer's Awareness Month and Sept. 21 was World Alzheimer's Day, the Sept. 14 date for the Tacoma walk fit in perfectly. A separate walk was held Sept. 28 in Bremerton.
Experts say that Alzheimer's disease is now the third-leading cause of death in Washington and the sixth-leading cause of death nationally.
The purpose of the Walk to End Alzheimer's, said Averill, is to raise awareness about the disease.
"We hope to get more publicity because not enough people know about the programs and services. It is a very stigmatized disease," she said.
The September walk in Tacoma drew over 100 teams and 700 people and raised $80,500. Over 40 volunteers helped sign people up on the day of the event, pass out bib numbers and direct everyone to the right spot. Shuttle buses drove participants from the parking lot off Puyallup Avenue to the walk site, helping everyone arrive on time.
Team Ken consisted of family members of Ken Karon, who died in 2001 of Alzheimer's.
Ken's wife, Judy, said her husband had been CEO of an auto parts warehouse and was one of four children. Three of the children have died of Alzheimer's disease, and the University of Washington is now following the family.
Ken was 74 when he died.
"People who have Alzheimer's know something is wrong. Ken told his niece a few years before he was diagnosed that he knew something wasn't right," said Judy.
Marilyn Kealoha, her daughter Tara Gage and grandchildren walked in memory of her mom, Karen Baisley
"Dad took care of mom at home and it was rough on him, but now he has time to take care of himself. He lost his best friend," she said.
Keri Pollock, communications director of Alzheimer's Association's Western and Central Washington Division Chapter, said their deepest and broadest reach is through their support groups.
"We come in all different shapes and sizes," she said, adding that the support groups are beneficial to all family members. "When a person receives a diagnosis, they don't want to be a burden, and one of the ways we help soothe that anxiety is by empowering and educating families and providing them with that level of support."
Pollock said that Alzheimer's is a progressive disease and there is no cure.
"We are talking brain failure," she said. "The reality is that whatever part of the brain is affected will eventually fade or erode, and we need to help individuals and family prepare for that. Job number one is to help them accept that fact and feel the support of others."
Tacoma offers seven such support groups. Some are specific to the caregivers and some are for the person who has been diagnosed with Alzheimer's.
Pollock said there are 10 warning signs of Alzheimer's disease to help relieve people's anxiety about the disease.
"Everybody forgets where they put their keys, but when you really want to be concerned is if you find your keys in the freezer or you put your shoes in the dryer," she said.
Help is just as close as the phone, with a call center open 24 hours a day, seven days a week at 800-272-3900. Pollock said the center is staffed with trained, masters-level people "really understand Alzheimer's and all related dementias and can help with local resources and support and care."
The Alzheimer's Association for western and central Washington can be reached at 206-363-3900.