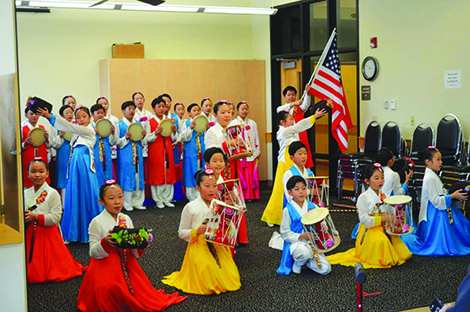 Guests pouring in to the Puyallup Activity Center on a recent Friday had to arrive early to snag a seat for the performance of the Korean Children's Choir. Every one of the 75 seats was filled a half-hour before the choir took the stage.
The Far East Broadcasting Company – Korean's Children's Choir use their singing ability to witness Christ and express their appreciation for American missionaries and soldiers who died for the Korean people, according to Joy Kang, executive assistant to the chairman of Far East.
"The primary theme of the choir's performance is Christian gospel and hymns, as well as local folk songs and patriotic songs to make people aware of the privilege of living in their wonderful country," she said.
All choir members' families are responsible for their own expenses, including air and bus fare, lodging and meals.
The talented children, ranging in age from 7 to 13, are selected through a rigorous audition process, and their concerts are free to the public.
Choir member Hannah Shim was visiting the U.S. for the first time when the group performed in Puyallup, and she said she hoped to rise to the level of being a really good singer.
Tour director Simon Kim said there are 12 groups of choirs. "All the kids are great," he said, adding they have performed all over the world, including at the White House and United Nations.
The colorful performance at the Puyallup Activity Center included traditional favorites "Joshua Fought the Battle of Jericho," "Oh Susanna," "My Old Kentucky Home" and "Swanee River," as well as a host of other folk and patriotic songs that had the audience members clapping and tapping their feet.
Bob Chapman, executive director of the Meridian Hills retirement community, brought a group of its residents to see the choir.
"Our folks love going to events in the community," he said.
Anne Troccoli and Uta Schier, friends since 1976 who get together every week, also came to enjoy the music.
Trudi Bocott, a senior services assistant for the City of Puyallup, was pleased she was able to arrange for the performance.
"We are very blessed to have this group come to our senior center. They are world-renowned, and I am so thankful. I made bags of chocolate-covered raisins for the kids," she said.
All too soon, the performance was gearing down with patriotic songs and a huge American flag that had audience members standing, cheering and wiping their eyes.
Choir members then rushed into the audience, hugging each and every guest and whispering into their ears, "God bless you."
Kim addressed the audience and expressed the choir's gratitude to the United States for sending missionaries to Korea and troops to fight in the Korean War – and to issue a plea for peace in the current Korean situation.
"You sent them to protect our country so these kids can be here to express our gratitude. We thank you, United States. Our country is in danger. Pray for Korea," he said.
Joan Cronk, who wrote this article, is a freelance writer from Puyallup.