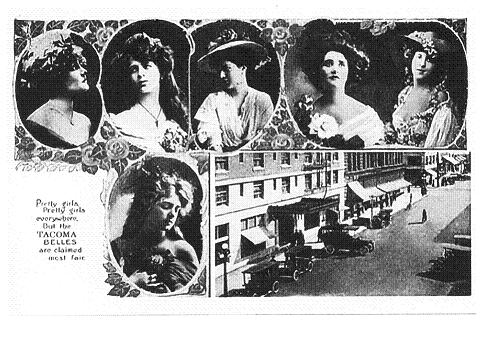 According to a Tacoma Daily News article dated Nov. 8, 1890, Tacoma was known all over the east coast for having the largest number of single men in any city of comparable size in the country.  There may have been reasons why women avoided Tacoma, starting with hats.
At that time ladies' hats were in the doghouse, so to speak.  Big hats were back, and women wore huge ones known as the Merry Widow.  Men didn't like them, and they especially didn't like them on the streetcars.  Three men not only complained, saying, "A woman's hat broke my glasses…a woman's hat severely scratched my face…a woman's hat broke my derby," they also filed charges for damages with the Tacoma Traction Company. The men wanted financial compensation and the street car line wanted the hats to go away.  It considered charging wearers double fare.
Men also had issues when it came to the masses of ribbons, felt, and feathers which adorned the Merry Widows.  Simply put, the furbelows obstructed vision.
Tacoma city council members decided enough was enough, and ordered a series of fines ranging from five to ten dollars "to be levied for wearing a hat in a theater or other place of public entertainment."  The ladies were furious.  Fashion was fashion and where, at the theater, were they supposed to put their chapeaus?
Then the men tried to take it one step further: enforce the same law at church services.  The official reason it wasn't extended to include houses of worship was the separation of church and state.  The unofficial one was that a big hat provided a handy shield behind which a man could doze.
Men in Tacoma had issues with dresses, too. According to one editorial, dressmakers were so skilled they were able to take several yards of fabric and cut and stitch it so that a woman appeared to be wearing tights, which were illegal, without actually breaking the law.  "Girls, whose minds should be as spotless as an angel's wings," the editorialist wrote, "attend their afternoon teas in gowns that are as plastic as Fay Templeton's dress in Robinson Crusoe."
Again, city council members went into action.  They ordered police to tear down and destroy "all posters of nude or semi-nude women which were used merely to attract audiences to (burlesque) shows."  Which brought up the question of the two statues in Wright Park.  "It is certainly not unwarranted," one newspaper claimed, "that the ankles of these dancing girls are such as to justify their demolition."
The Tacoma Daily News, which seemed to have a misogynist bend, accused young women of both flirting in church, and of refusing to take their servants there for fear people would ask, "Which is the mistress and which is the maid?"
Of course women hotly denied the accusation.  Servants were hard to come by.  A number of ladies had gone to a slum area and tried to entice some of the young women away from their fast-and-loose lifestyles.  Unfortunately, the wages these ladies offered didn't compare to the wages of sin.
The ladies must have been thrilled when Colonel Albert Whyte of Tacoma and the Honorable Mrs. Joyce of St. John's Croft, Winchester, England started working together to bring "fresh, hearty, beef-eating, strong, willing girls" to Tacoma, in order that they might "achieve their greatest desire to work, their ambitions ending at kitchen portals, not extending to the drawing room."  The women were expected to pay back their travel expenses.
The plan does beg the question, "with Tacoma's afore-mentioned shortage of marriageable women, why would these young women want to work in someone else's kitchen instead of their own?"
And then, because the councilmen seemed to spend a lot of time looking at women, it created a dance rule:  "The lady, in dancing, shall place her left hand on her partner's arm and not on his shoulder or back."  Men were allowed to accommodate themselves if, "they had a short arm and/or a buxom dance partner."
According to the New York Times, which felt called upon to report the new rule, "The unhappy part of the situation is that the dance has fallen from the high estate of the days of the polka and schottische."
Meanwhile, while councilmen were watching and ruling, Tacoma women were initiating a local branch of the Women's Exchange, an organization started in the 1830s to allow "nice" women to make money by selling goods on consignment. In those pre-social-services days, when working outside the home had a stigma, spinsters and widows had few ways to make a living.
The W.E. matched skills with needs.  Some ladies came in to sell clothing they'd made.  Each item was examined and, if necessary, the seamstress received advice or additional training.  Talented cooks showed up with cakes, pies, bread, and jelly.  In 1890 alone, the exchange sold, on behalf of these women: 1,050 cakes, 600 dozen donuts, 400 dozen cookies, 5,000 loaves of white bread, 2,000 loaves of brown bread and 837 loaves of graham bread.  Exchange members also ran a lunchroom.
People came in to dispose of jewelry, lace, rare books or other items; women came looking for work, a man came to find a housekeeper, children came looking for someone to adopt them.  Through the W.E. seamstresses, house servants, stenographers, and teachers found work
Initially, the W.E. operated out of a room at the Northern Pacific Building.  When success called for more room, the women rented a store on 10th and A Streets. Officers for the organization were elected from a 36-member board.  Women wishing to participate paid annual dues of $2.50.
There isn't much information about the Women's Exchange in Tacoma.  Suffice it to say that the city council members seemed to have too much time on their hands.