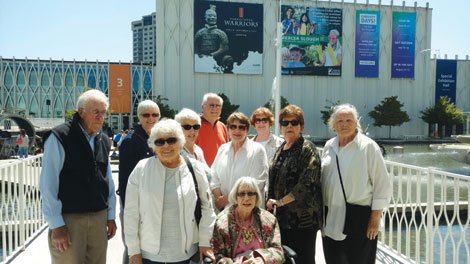 As I sit to write this, we are in that beautiful transition to fall. The trees have had their glory days, grow older and are beginning to wither, but not before that one last show of color and spirit.
Our lives are a bit like that. We start out as little buds and grow through the years with all the experiences that life gives us. At the end of our journey, we hope for a beautiful, vibrant show.
Audrey Stacy had that life and many journeys. She is the one you have probably seen in more of our travel pictures than anyone else. She developed a travel bug while married to a military man and it never went away. At 102, she was still looking forward to many more trips. She was already booked on a Mexican coastal cruise next March and wanted to go on our river cruise in April. She had even looked far enough forward to think about going on one of the July Alaska cruises.
We had just been up to Vancouver on a short trip when she became ill. We returned to her home and she went to see her doctor. He placed her in St. Joseph Medical Center, and early on the morning of Oct. 7, she closed her eyes and embarked on her final journey. Her heart, which guided her on so many adventures, finally took her on this last one.
We all need to take a look at someone like Audrey who lived life to the fullest. She had her bucket list and enjoyed ticking off the items.
Life is short. We can spend our last days wishing or we can spend them doing the things we have always dreamed of. Make your plans to come along with us on our senior adventures. Get out and enjoy life while you still can. Most of us will not make it to 102, but we can have fun trying.
Linda Finch, who wrote this article, can be reached at 253-927-8207 and linda.finch@gmail.com.